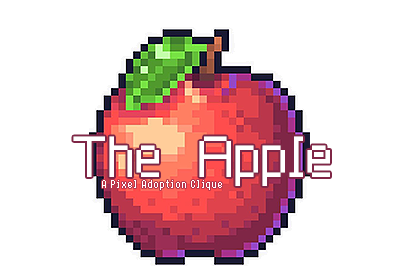 Welcome!
Part clique, part adoptable, and part fanlisting, one of the original food based pixel adoption cliques was The Apple back in the early 2000's. It, and many other adoption cliquess like it, has long since been abandoned. But I've taken it upon myself to bring it back with the original and added pixels. There's no real "point" to having a cute little apple on your site but who cares? :P
Rules
1. You must have a site to place your apple and you should probably like apples too.
2. Link your apple back to this address: http://pixelrevival.xyz/apple/.
3. Do not direct link. Save the image to your own server.
4. DO NOT claim any of these pixels as your own. They are the property of the original artist and myself.
5. Join by posting your name and the url on the Pixel Revival Guestbook with a little note letting me know which clique you're joining.


Apples
Pick your apple here. Choose as many as you like!








Apple Pickers
Eva . link
PKLucky . link
Pastry . link
Christina . link
Dryad . link
Jamie . link
Haptalaon . link
Barry . link




<-- Return to Pixel Revival.